Home
Bio
Galleries
FAQs
Brochure
Classes
Links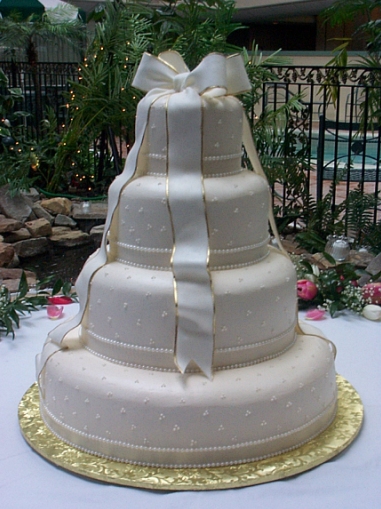 Butter Almond cake with a Chocolate Ganache filling
Vanilla Buttercream frosting in the rolled fondant style
Gilded sugar bow and ribbon
Welcome to the Cakes for Occasions website, featuring the works of Kim Morrison, a nationally recognized baker and Honorary Certified Master Sugar Artist who has been creating elegant works of art for over 22 years. She would be delighted to create a masterpiece for your special event.

Kim believes that cakes should be as delicious on the inside as they are lovely on the outside, so her masterpieces are always made entirely "from scratch" using the finest ingredients, they are rich with butter, local cream, real vanilla, and dark Belgian chocolate, and are never overly sweet.

Our European-quality cakes are designed to perfection just for you. Simple or lavish, we welcome special requests and we will do our utmost to fulfill them.

Please feel free to call with inquiries, for price ranges, or to schedule a consultation for your wedding or other large event.