Home
Bio
Galleries
We have so many cakes that we couldn't make individual pages for all of them--but we did want to share as many as possible with you. Here in Gallery 2, we've tried to give you a few extra shots of some of the detailed work that wins awards and delights your guests.

Susan and Tim's fall wedding in Sutton's Bay, this is a Hazelnut Celebration Cake with chocolate fondant, sugar flowers, and bronzed scroll decorations. The hand dusted sugar roses, calla lilies and orchids matched Susan's bouquet while the scrolls picked up on decorations from the invitation she designed.
This buttercream frosted cake features gold-accented drapes carried by gumpaste fantasy butterflies, as well as cascades of hand made gumpaste roses, hydrangeas, sweetpeas, and lisianthus with fanciful curlicue piping.

Red Roses and Black Scrolls
Hand-made sugar roses add elegance to this simple black and white buttercream frosted cake.
---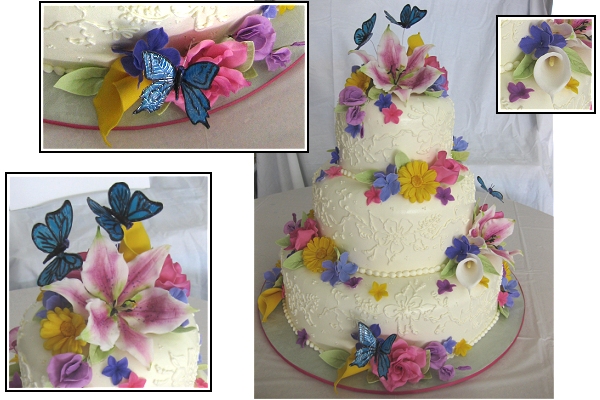 Bedecked with Flowers and Butterflies
All the decorations on this cake are handmade. The butterflies are made of gelatin (not the traditional gumpaste), which gives them a shiny, more ethereal appearance.
---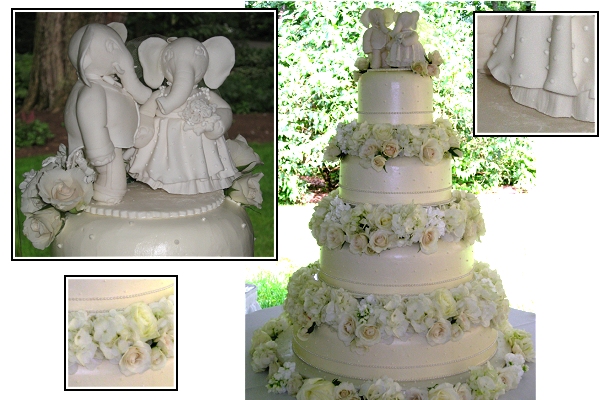 Elephant Nuptials
This handmade sugar "bride and groom" delighted the guests. All the flowers are fresh. The "Dotted-Swiss" on the elephant bride's gown matched the real bride's outfit.
---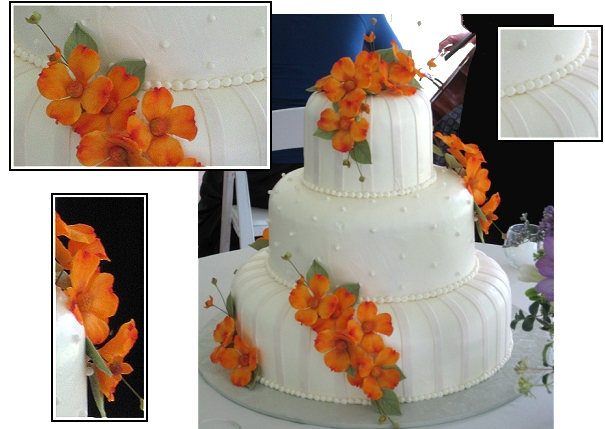 Orange Delight
Sugar dogwood flowers in mango colors provided a dramatic composition.
---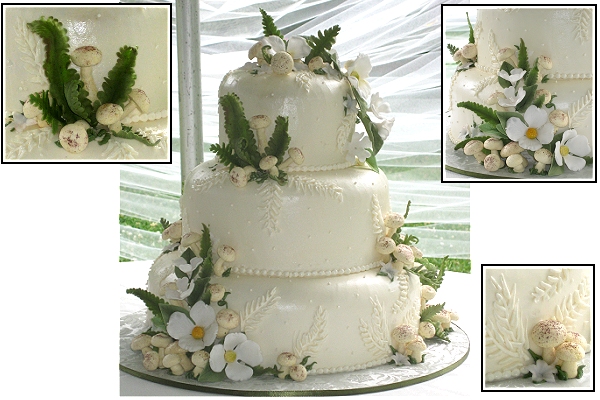 Fern Garden
The ferns, flowers, and button mushrooms are all hand made. The mushrooms are made of meringue and were gently hand assembled.
---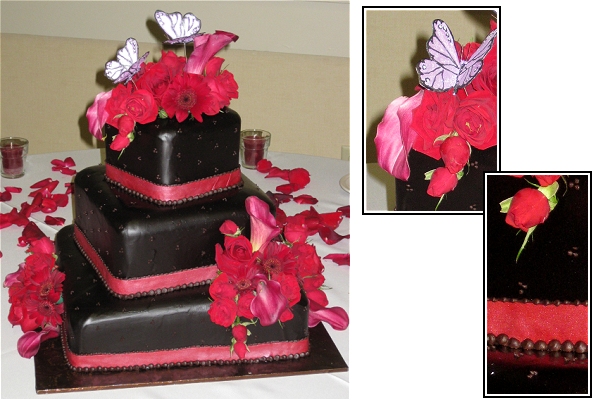 Red Ribbons
Fresh flowers and gumpaste butterflies are the highlights of this chocolate "offset square" cake.
---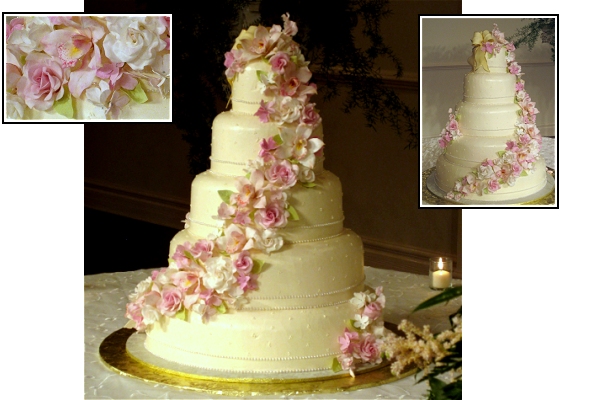 Cascade of Flowers
Dozens of sugar flowers adorn this buttercream cake with a fondant bow.
---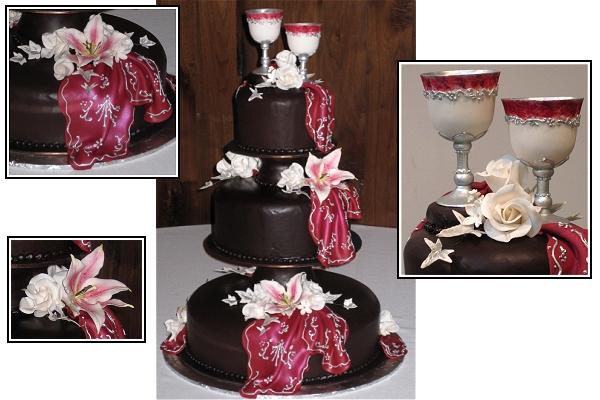 Chalices and Lilies
Chocolate cake, chocolate filling, and chocolate glaze with hand made sugar drapes, flowers, and chalices. The separators are covered with chocolate fondant.
---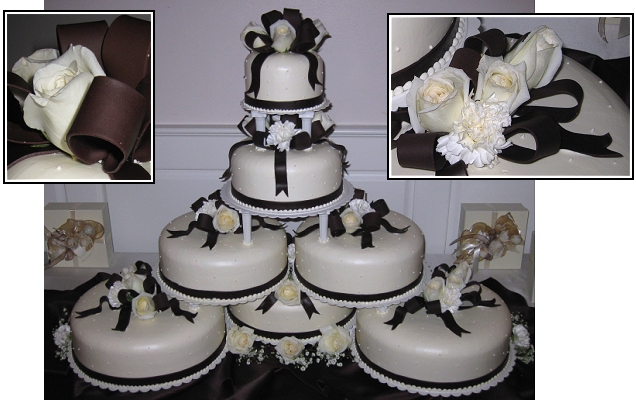 Tiers of Ribbons and Roses
Kim calls this style of cake "the mountain cake design" because of the size of the presentation. This type of cake might have the same number of servings as a more traditionally-styled cake, but the "mountain cake" will dominate a table top.
---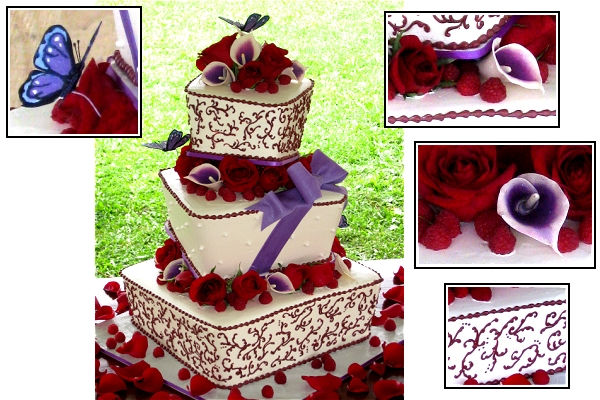 Raspberries and Roses
Gumpaste butterflies and calla lilies combine with fresh roses and berries for a bright topsy turvy presentation.
---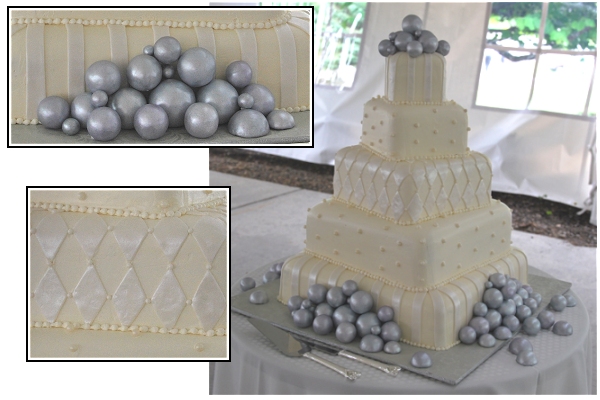 Sweet Silver
Offset Squares with a variety of piping and fondant work take a 'simple' white to an entirely new level.
---

Cakes for Occasions by Kim Morrison
P.O. Box 151, Spring Mills, PA 16875
814-422-8779

email us at cakes @ kmcakes.com

---
All content © KMCAKES.COM 2010